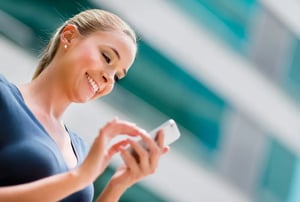 RETAIL CUSTOMER BANKING APPLICATION
A Powerful Mobile and Web Experience that Empowers Customers to conviniently Get Their Banking Done
ENABLE CONVENIENT CUSTOMER SELF-SERVICE
Many banks equate digital transformations with new mobile apps. While crucial, neglecting the integration of bank employee channels and processes can lead to inconsistent customer support, varying process execution across channels, and diminished employee satisfaction, all undermining digital goals.
Axxiome Digital excels in integrating Customer Channels with banking processes, guaranteeing consistent execution and an improved customer journey. Our method eliminates redundant steps, streamlines operations, and refines the banking experience for customers and employees alike.
Key Features
The Axxiome Digital Web and Mobile Application is thoughtfully crafted to tailor itself to the bank's specific user experience preferences and aesthetic appeal. It works seamlessly integrated with bank processes and employee channels, offering customers a truly unified Omnichannel experience.
Banking Power in your pockets
RETAIL MOBILE BANKING
Axxiome Digital's Mobile App empowers customers to perform all essential banking activities seamlessly:
Move Money between accounts
Transfer money to friends, family and businesses

Manage accounts and cards

Scan and deposit cheques

Split bills




Chat with a representative




Find an ATM

and more...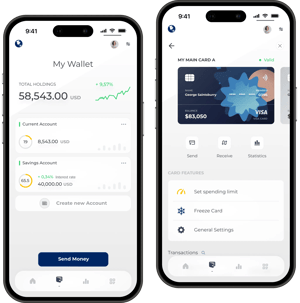 SEAMLESS JOURNEY
REMOTE ONBOARDING
The successful onboarding of new customers plays a vital role in a bank's success. Axxiome Digital empowers bank customers to complete the entire procedure remotely within minutes, by incorporating:
ID Scanning
Remote Customer Identification
Digital Signature
Real-time Account Origination
Digital Wallets Integration
Funding Options
Read more about our Digital Onboarding solution.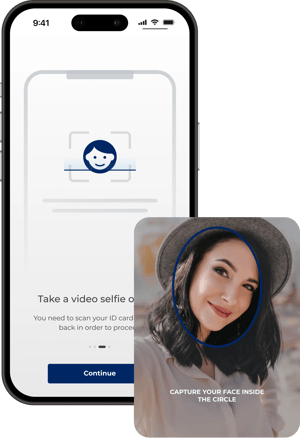 Comprehensive Self Service
RETAIL WEB APPLICATION
Axxiome Digital's Web Experience offers the same capabilities as the mobile application, and encompasses additional functionality on top:
Advanced Data Export
Financial Analytics
Extended Reporting
and more...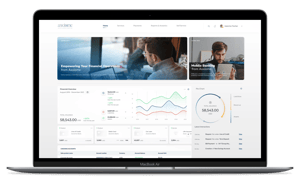 OTHER CAPABILITIES
Effortlessly send money to nearby individuals using QR Scanning or your phone's contact list.
Apply for a Loan, receive instant approval, and have funds deposited within minutes. Read more about Account Opening.
Instantly open new accounts, efficiently manage your savings, and earn interest effortlessly. Read more about Account Opening.
Empower customers with self-service capabilities to manage their master data efficiently.
Maintain documents including scanning of IDs, automatic contract creation, digital signature, and more.
Receive real-time notifications for alerts, activity changes, and potential fraud detection.
Enhanced banking application security, including encryption and two-factor authentication (2FA).
Compatible across Web, iOS, and Android, ensuring an optimal user experience.
Benefits
Customer Retention: Improved user experience can enhance loyalty.
Cross-selling Opportunities: Insights into customer behavior can highlight opportunities for additional product sales.
Reduced Costs: Digital interactions can be more cost-effective than physical ones.
Convenience: 24/7 access to banking services from any location.
Real-time Information:

Instant updates on transactions, balances, and other account details.
Faster Service:

Reduced waiting times for services like loan approvals, fund transfers, etc.

Operational Efficiency:

Automation and streamlined processes reduce overheads and manual errors.

Secure Investments: Seamlessly integrates with any existing third-party solutions.
FREQUENTLY ASKED QUESTIONS
Is the retail application secure?
Yes. Our web application and mobile banking app employs advanced security measures, including encryption, biometric authentication, and secure data transmission, ensuring your financial information is protected.
Can we configure alerts?
Yes. Customers can configure account alerts for various activities such as balance notifications, large transactions, or low balance warnings, providing them with real-time updates on their account activity.
Can we keep our existing customer applications?
Certainly! Axxiome offers Axxiome Digital as a platform, allowing banks to utilize its APIs and access all the business capabilities seamlessly, without the need to modify the existing Retail Banking Applications.
Can Non-Customers onboard themselves?
Yes. Our applications allows non-customers to onboard themselves completely securely and remotely in a matter of minutes.
Does Axxiome Digital work with our third-party solutions?
Absolutely! The bank has the flexibility to utilize third-party components of their choice, rather than being restricted to the ones already supported by Axxiome Digital.
Can we tailor the retail application to our preferences?
Certainly, we will adapt the app to reflect the Bank's corporate identity and preferences, and can even provide major customizations if required.
What deployment choices are available?
Axxiome Digital offers multiple deployment options, including on-premise, self-hostsed and cloud deployments. Read more about the Digital Platform and Deployment Options.
How can the app increase customer satisfaction?
Our application empowers customers to take greater control of their banking experience. When they require assistance, bank representatives can provide support seamlessly, minimizing the need for extensive questioning or redundant steps in the process.