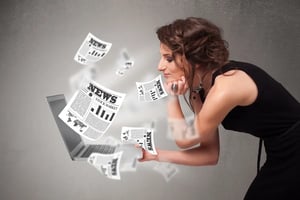 MARKETING AND WEB
FOR BANKS
Enhancing Banking Reach: Amplifying Customer Connections and Promoting Financial Solutions
POWERING YOUR MARKETING AND WEB ASPIRATIONS USING HUBSPOT
In today's digital era, robust marketing and web capabilities are vital. The digital space builds brands, reputations, and nurtures customer relationships.
Leveraging platforms like HubSpot equips businesses with effective engagement tools and valuable insights, promoting intelligent decisions. A comprehensive web strategy ensures a smooth customer journey from discovery to conversion. As customer interactions increasingly move online, integrating effective marketing with a solid web presence is fundamental for business growth.
Key Features
Axxiome is a HubSpot Solution Partner. Harnessing the synergies of Axxiome Digital solutions and Hubspot CMS and Hubspot Marketing capabilities gives banks the edge to stay competitive and relevant in a fast-evolving market.
CONTENT MANAGEMENT
ELEVATING BANKING WEB EXPERIENCES
Utilize an intuitive platform for content creation, optimization, and personalization. Seamlessly integrate marketing tools and analytics, ensuring dynamic web experiences that drive engagement and conversions. Some of the key features are:
Drag-and-Drop Editor to easily design pages without coding
Built-in SEO recommendations to boost search rankings
Machine learning to optimize visitor experiences
Content Staging to preview changes before live publishing
Analytics to measure content performance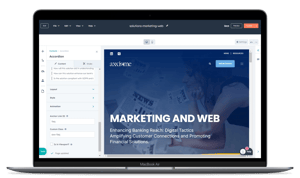 MARKETING
BANK GROWTH, DIGITALLY DRIVEN
Take advantage of a powerful platform combining campaign creation, automation, analytics, and advanced newsletter capabilities. It ensures effective outreach, sustained engagement, and insightful performance metrics.
Lead Generation tools to attract and capture quality leads
Marketing Automation for streamlined campaign management
Email Campaigns with tailored communication sequences
Landing Pages to easily create conversion-focused pages
Analytics Dashboard to monitor campaign success at a glance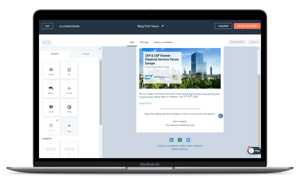 OTHER CAPABILITIES
CUSTOMER INTERACTION RECORD
A comprehensive log of all customer touchpoints across all channels fully integrated with Axxiome Solutions.
Instant communication with personalized responses and robust analytics for enhanced customer support.
Promotional initiatives, fully integrated with Axxiome Solutions, targeting specific audiences for optimal engagement.
In-depth insights enhance bank marketing, content personalization, and targeted offers.
Compliance with cookie policies, data protection, user consent, and transparent data handling practices.
Benefits
360-Degree Customer View: Detailed profiles combine banking history with interaction data for holistic understanding.
Data-Driven Personalization: Harness platform insights to tailor banking offers and content.
Optimized Marketing Campaigns: Strategically target banking clientele with precise, results-driven campaigns.
Comprehensive Analytics: Understand customer behaviors and preferences, driving informed banking decisions.
Enhanced Customer Engagement: Leverage advanced content strategies to boost user interactions and loyalty.
Automated Banking Workflows: Integrate marketing automations with banking operations for improved efficiency.
FREQUENTLY ASKED QUESTIONS
What makes this solution different from others in the market?
Axxiome Digital seamlessly integrates with top-tier CMS and marketing capabilities, offering a unique blend of customer engagement, personalized offers, and data-driven insights.
How will this solution aid in understanding our customers better?
The solution offers a 360-degree customer view, merging banking history with interaction data, thus providing a comprehensive understanding of customer behaviors and preferences.
How can this solution enhance our bank's marketing efforts?
By merging banking operations with advanced marketing tools, the platform facilitates precise targeting, tailors campaigns based on customer behavior, and ensures consistent cross-channel experiences.
WHAT MEASURES ARE IN PLACE TO ENSURE DATA PRIVACY AND GDPR COMPLIANCE?
We prioritize data privacy with robust encryption, access controls, and regular audits. Our platform adheres to GDPR and other relevant regulations.
What deployment choices are available?
HubSpot functions as a cloud-based Software-as-a-Service (SaaS) platform, accessible through any web browser. To accommodate data residency requirements, HubSpot offers regional hosting options, specifically in the United States East region or the European Germany region. This flexibility enables businesses to align with data compliance regulations pertinent to their operational geography.