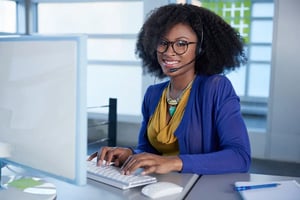 SAP Banking
Solutions
Elevating Excellence: SAP Banking Consulting
SAP MASTERY: AXXIOME HELPS BANKS TRANSFORM
Axxiome is Global Silver Partner of SAP for SAP S/4 transformations and Trusted Partner of SAP Fioneer with focus on SAP Financial Services. We have a proven track record with more than 15 SAP successful banking transformations worldwide.
Axxiome offers a flexible nearshore & offshore model for SAP development and services.
Our SAP certified Axxiome Digital products extend digitalization strategies and capabilities including omnichannel messaging, process automation and seamless third-party & fintech integration via API technology.
Products
We are a digital transformation provider specializing in end-to-end value creation leveraging SAP (and pre-integrated and certified Axxiome) IT solutions, coupled with professional and technical expertise ranging from strategy to implementation.
Our core competency is within financial services where we are dedicated to optimizing and accelerating digitalization through SAP standard software, including SAP S/4HANA, SAP ERP, SAP BP, SAP FiCO, and SAP BW. Our ISO/IEC 27001 certifications underscore our unwavering commitment to the highest safety and quality standards.
Furthermore, we are committed to supporting you with crucial, forward-thinking strategic inquiries:
How to choose the right S/4HANA strategy?
As companies embark on the journey to S/4HANA migration, critical strategic decisions must be made. One such decision revolves around choosing between the 'on-premises style' or cloud variant of S/4HANA. Each option presents distinct advantages and drawbacks, making this choice a challenging one for many organizations.
What does RISE WITH SAP mean to us?
Furthermore, there is the decision of whether to opt for a service offering that can assist companies in their digital transformation journey and provide relief during implementation and operation. SAP provides such a service model with "RISE with SAP," but it's often unclear what precisely is encompassed within the scope of this offering and whether the cost-benefit analysis aligns.
SAP Business Partner
The SAP Business Partner module in both SAP S/4HANA and SAP ERP centralizes data for customers, vendors, and contacts, streamlining processes such as CRM, supplier management, and communication tracking. Our services:
Business Partner Activation on your SAP system
Technical preparation of Business Partner conversion
Option 1: Technical conversion including a 1:1 conversion of all necessary master data and the implementation of corrections during operation
Option 2: Conversion with harmonization including consistency check of master data and option to link customers and suppliers with the same entity
Duplicate check
Integration to SAP BW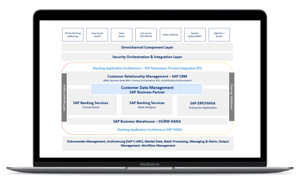 SAP BW
Efficiently manage the challenges posed by expanding data requirements with our BI solutions, which prioritize both performance and cost-effectiveness. Our expertise:
Design and deploy Enterprise Data Warehouses (EDW) and BI solutions using SAP BW/4HANA, SAP BW (on HANA), and SAP HANA.
Streamline standardized processes for building comprehensive, high performing and maintainable SAP BW data flows.
Data integration, cleansing, and transformation expertise tailored to your business needs.
Design BI authorizations and implement SAP Fiori, including customized software solutions.
Incorporate machine learning using proven methods and cutting-edge tools.
Our strength is to integrate data in a smart and effective way. E.g., integration of loans, master contracts, deposits, and facilities.
When your in-house resources can't quite meet the technical and functional demands, our team of specialized SAP BW developers steps up to the plate. Draw upon our proven track record of success in numerous SAP BW projects and harness our expertise to steer your SAP BW projects towards resounding success.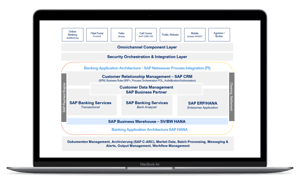 SAP S4/HANA
The switch to SAP S/4HANA is on the agenda for all SAP customers. What added value does SAP S/4HANA really offer and when is the right time to make the switch? This is all the more true as the days of SAP ERP are numbered because support will expire in 2027.
We accompany you right from the outset, assisting in crafting your strategy and roadmap through to project implementation. Commencing the project early and adopting a controlled approach with manageable sub-projects are the essential elements for achieving success.
Our core competences and services:
Support in the definition of a tailor-made implementation strategy
Creation of your SAP HANA roadmap and possible business cases
Project preparation and planning SAP S/4HANA pre-projects from business partner implementation to readiness check
Advice on the decision between a migration from an existing system to S/4HANA or a new implementation.
Carrying out the technical migration or implementation from scratch.
Configuration of the S/4HANA modules according to the bank's specific business requirements.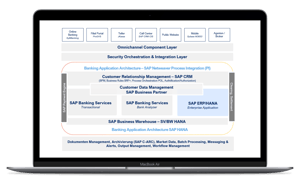 SAP FICO
SAP FICO plays a crucial role in supporting an organization's financial and management accounting needs, enabling efficient financial operations, informed decision-making, and compliance with accounting standards and regulations.
Our services:
Advising on the configuration and customization of SAP FICO according to the bank's requirements.
Setting up accounts, company codes, cost centres, profit centres, etc.
Configuration of financial accounting processes, such as general ledger accounting, sub-ledger accounting, asset accounting, bank postings, payment transactions and receivables management.
Configuration of cost accounting processes, including cost center accounting, profit center accounting and internal activity allocation.
Planning and implementation of the migration of financial data from existing systems into SAP FICO.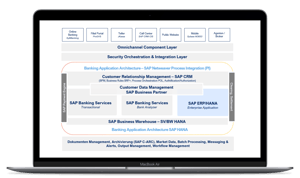 OTHER CAPABILITIES
SAP APPLICATION MANAGEMENT
We ensure the operation of the applications and provide a support center for troubleshooting.
In addition, we continuously develop the SAP systems and support our customers in this regard.
We help ensure your corporate strategy is reflected in the SAP architecture and processes. Whether you are planning a new implementation, a migration, or a complete transformation - we guide you every step of the way.
Customization & Configuration
SAP modules can be customized and configured to optimally fit the bank's specific business requirements and processes. This may include workflows, user interfaces, data structures and other customization.
Fine-tuning SAP modules to ensure that they perform optimally and deliver the expected results. This can include monitoring system performance, identifying bottlenecks and optimizing workflows.
Benefits
Improved Efficiency: Automated manual processes, reducing transaction processing time by 40%.
Optimized Customer Experience: Personalized offers boosted customer loyalty by 25% and increased cross-selling by 30%.
Faster Data Processing: Access up-to-date reports within minutes, enhancing decision making and reducing costs by 15%.
Improved Data Integration: Harmonized systems for better data integrity, cutting data inconsistencies by 90% and boosting reporting accuracy.
Higher Scalability and Flexibility: Reduced time-to-market by 25%, leading to faster ROI.
Increased Cost Savings: Process streamlining with SAP modules cut operational costs by 20%.
FREQUENTLY ASKED QUESTIONS
What benefits does Axxiome's global presence offer?
Our global presence enables deep knowledge of country-specific standards and regulations for localized adaptations. Additionally, we're able to efficiently serve clients across multiple time zones.
What services are encompassed within SAP Application Management?
We ensure scalable and performance-optimized coding and architecture to reduce hardware costs and streamline maintenance.
How can the performance of SAP applications be increased?
We ensure a coding and an architecture which is scalable and performance optimized. In order to reduce hardware costs and ensure lean maintenance. We achieve this by utilizing development guidelines and solution patterns. Additionally, we conduct an internal qualification program for our employees.
What can be understood by an SAP strategy?
We provide a SAP strategy that presents a clear and comprehensive roadmap for aligning an organization with its business objectives through SAP (Systems, Applications, and Products in Data Processing) software solutions. This strategy encompasses decisions related to SAP product selection, integration, governance, data management, security, and more, ensuring that SAP effectively supports the organization's long-term goals and requirements. Even if your organization is non-SAP, we ensure you receive the best-fit solution tailored to your needs, with a primary focus on your unique requirements.
How is the security of customer data ensured?
SAP Core Banking provides security features such as user and access control, encryption, and data integrity to ensure the security and protection of sensitive customer data.