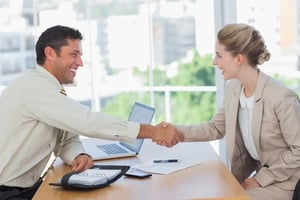 SALES AND CRM
FOR BANKS

Streamlining Customer Interactions: Enhance Insights and Strengthen Relationships
ELEVATE CRM & SALES TO BANKING EXCELLENCE USING HUBSPOT
In today's banking landscape, Sales and CRM are transformative linchpins that fuel exceptional customer experiences. The Customer Information File (CIF) serves as an essential data repository. Together with the Customer Interaction Record, it offers a holistic view of customer engagements, from inquiries to transactions.
These insights reveal customer preferences and lifecycle stages, facilitating precise targeting. Informed pipeline management empowers banks to strategically navigate sales, seizing prime opportunities. With this data, banks can deliver more than promotions; they provide personalized interactions that foster loyalty, solidifying both customer trust and market position.
Key Features
Axxiome is a HubSpot Solution Partner. Combining the strengths of Axxiome Digital solutions with HubSpot CRM and HubSpot Sales empowers banks to nurture relationships, drive sales efficiency, and remain a force in today's dynamic banking environment.
BANKS CUSTOMER INFORMATION FILE
CUSTOMER MASTER DATA
Centralize retail and commercial customer master data, including company details and relationships. In multi-core frameworks, use this as the primary CIF, ensuring smooth synchronization with core banking systems. This includes customer information such as:
Personal Identification Information
Contact Details

KYC/KYB Information

Business Affiliations/Details
and much more...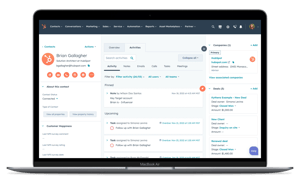 LIFECYCLE MANAGEMENT
CUSTOMER AND DEAL STAGES
Centrally track client journeys, from lead to onboarding to loyalty. Utilize Deal Stages to visualize sales progress, ensuring timely engagements and optimized conversion opportunities.
Automated Lifecycle Stage Tracking
Dynamic Contact Segmentation
Visualized Deal Stage Pipelines
AI-Powered Predictive Lead Scoring

Advanced Reporting and Analytics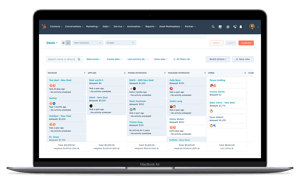 OTHER CAPABILITIES
Utilize workflows to automate repetitive sales related tasks, closely interlinked with Axxiome Platform Workflow Engine.
Assign and schedule sales tasks, meetings, and reminders for seamless workflow management.
Receive real-time alerts when recipients open emails, click on links, or view attachments.
EMAIL TEMPLATES & SEQUENCES
Automate follow-up emails, ensuring timely and consistent communication with customers.
Visualize sales metrics and track performance using customizable dashboards.
CUSTOMER INTERACTION RECORD
A comprehensive log of all customer touchpoints across all channels fully integrated with Axxiome Solutions.
Compliance with data protection, user consent, and transparent data handling practices.
Benefits
Revenue Growth: Centralized customer insights drive tailored offers and sales, maximizing profitability.
Operational Efficiency: Sales and CRM process automation reduces overhead, leading to cost savings.
Strategic Decision-making: Data-driven insights from customer interactions guide informed business strategies.
Enhanced Market Reach: The digital platform's agility allows expansion into new segments and demographics effortlessly.
Risk Management: Seamless KYC integration mitigates compliance risks and protects bank's reputation.
Competitive Advantage: Analytics provide a deeper understanding of market trends, setting the bank apart.
Customer Lifetime Value: Personalized interactions boost customer satisfaction, increasing retention and overall value.
Real-time Performance Metrics: Instant access to sales data ensures timely interventions and strategy tweaks.


FREQUENTLY ASKED QUESTIONS
How does the CRM enhance our sales team's productivity and effectiveness?
The CRM centralizes customer data, automates repetitive tasks, and offers actionable insights, allowing your sales team to focus on relationship-building and closing deals.
How customizable is the sales pipeline within the system?
The sales pipeline is highly customizable to fit your bank's specific sales process, ensuring a seamless transition and immediate operational efficiency.
Can the CRM integrate with our existing systems and applications?
Absolutely. Our solution is designed for seamless integration with a range of banking systems, ensuring data consistency and streamlined operations.
How does the system help in understanding the customer lifecycle and preferences?
Through data analytics and customer interaction records, the CRM offers insights into customer behavior, preferences, and lifecycle stages, enabling targeted sales strategies.
What measures are in place to ensure data privacy and GDPR compliance?
We prioritize data privacy with robust encryption, access controls, and regular audits. Our platform adheres to GDPR and other relevant regulations.
Is there a learning curve for our sales team, and what training support is available?
While the system is user-friendly, we provide comprehensive training and support to ensure your sales team maximizes the platform's capabilities from the outset.
What deployment choices are available?
HubSpot functions as a cloud-based Software-as-a-Service (SaaS) platform, accessible through any web browser. To accommodate data residency requirements, HubSpot offers regional hosting options, specifically in the United States East region or the European Germany region. This flexibility enables businesses to align with data compliance regulations pertinent to their operational geography.