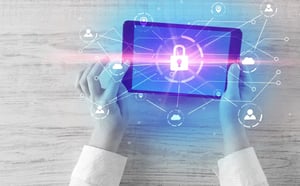 OPEN BANKING
ECOSYSTEMS
Unleashing Innovation: Open Banking is transforming Traditional Finance and empowering Consumers like never before
EMERGE BEYOND LEGACY LIMITATIONS
As Open Banking becomes a reality in various countries and with the prospect of PSD3 on the horizon, banks are now presented with a prime opportunity to explore the potential of Open Banking. Establishments that foster partner collaborations are better equipped to handle future uncertainties. Yet, several banks find themselves hindered by outdated legacy systems, often decades old, which have limited their adaptability and prevented them from fully embracing the evolving Open Banking landscape.
Axxiome Digital empowers banks to unlock their architecture, tapping into the advantages of Open Banking while delivering an authentic OmniChannel Experience to bank employees, customers and ecosystem partners.
Key Features
Axxiome Digital transforms financial institutions into customer-centric, future-ready enterprises. The platform offers omni-channel solutions, APIs, UIs, out-of-the-box processes, and digital widgets for superior experiences and seamless operations across devices, channels, and Fintechs / Partners of the bank's ecosystem.
INTEROPERABILITY AND SECURITY
OPEN BANKING STANDARDS
Global standards are pivotal for fostering a seamless financial ecosystem. They promote interoperability, ensure robust data security, and mandate consumer protection, creating a harmonized framework across countries. Axxiome Digital can be configured to support:
Payment Services Directive (PSD2 / soon PSD3) in Europe
Open Banking Implementation Entity (OBIE) Standards in UK
Financial Data Exchange (FDX) in North America
Consumer Data Right (CDR)in Australia
OpenID Connect & Financial-grade API (FAPI)
and more...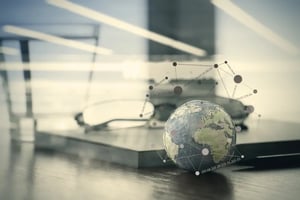 INTEGRATE ANYTHING
AGNOSTIC ARCHITECTURE
Axxiome Digital's omni-channel capabilities provide a unique opportunity for banks to implement all their business processes and functions centrally. Allowing Fintechs, Partners, Mobile and Online Banking solutions as well as employee channels to consume the same capabilities including:
Financial Products & Services
Payment Transactions
Customer Data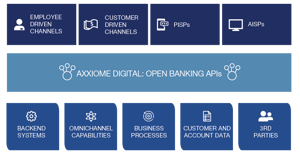 REGULATORY COMPLIANCE
CONSENT MANAGEMENT
Open banking consent management ensures customers' control over their financial data, granting, reviewing, or revoking third-party access, prioritizing transparency, security, and regulatory compliance in data-sharing practices. Our solutions encompass:
User-Friendly Interface to manage consent

Granular Consent Options to define data access levels

Real-Time Revocation to instantly withdraw third-party access

Transparent Audit trails to track consent histories

Multi-Factor Authentication to secure consent actions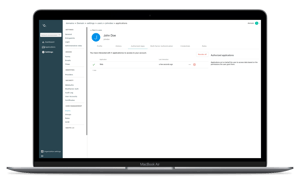 DOCUMENTATION AND SANDBOX
DEVELOPER PORTAL
Open banking sandbox environments offer developers a testing ground to experiment with bank APIs without real data. Developer portals provide tools, resources, and documentation to guide integration and ensure compliance. Axxiome Digital supports the following features:
Comprehensive API documentation and guides
Interactive API endpoints for hands-on experience
Feedback mechanisms for developer queries
Robust security measures for safe experimentation
Realistic, anonymized data for testing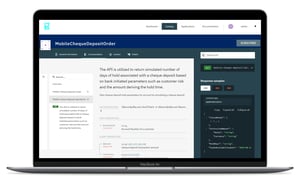 OTHER CAPABILITIES
Allow third-party developers to access bank data and systems to build innovative applications and services.
Secure identity and access management ensures distinct separation between internal and external entities.
Instant transactions between banks and third-parties, ensuring timely decisions and enhanced user experiences.
Visual business process studio centralizing design, orchestration, and monitoring of all banking business processes.
Real-time data flow ensuring systems interact without direct dependencies, promoting flexibility and rapid adaptability.
Connect to diverse platforms for multi-core coherence, universal connectivity, and easy third-party integrations.
Decode user behavior, optimize financial services and customer experiences, and drive informed decisions.
Safeguard sensitive financial data, protecting user information, and bolstering confidence in third-party integrations and services.
Benefits
Enhanced Customer Experience: Personalized, innovative services tailored to individual needs.
Increased Revenue Streams: New products, services, and partnership opportunities.
Improved Decision Making: Enhanced data access aids in informed strategies.
Operational Efficiency: Streamlined processes through API integrations.
Market Expansion: Reach broader customer segments via third-party platforms.
Risk Reduction: Better data sharing can improve credit decisions.
Secure Investments:

Unlocks Open Banking advantages while utilizing existing legacy systems.

Fostering Innovation: Collaborations with fintechs drive technological advancements.
FREQUENTLY ASKED QUESTIONS
What is the core concept behind an Open Banking platform?
An Open Banking platform facilitates secure data sharing, enabling authorized third-party providers to access customer financial data.
How does an Open Banking platform enhance customer experience?
By integrating various financial services, customers can access a broader range of offerings within a single platform, leading to a more personalized and convenient experience.
What advantages does the business gain?
Banks and financial institutions can harness their ecosystem to deliver products and services in collaboration with partners, broadening their reach and launching

new lines of business.
How does Axxiome Digital Integrate to Legacy architectures?
Utilizing the Axxiome Digital Adapter, our digital platform seamlessly integrates diverse protocols, orchestrates technical integrations, and precisely locates transaction-related data.
How does Axxiome Digital produce a true omnichannel experience?
Axxiome Digital centrally manages all business processes, rules and workflows in a state of the art BPMN engine that allows their consumption by any channel integrating through its secured APIs.
What solutions can be integrate to Open Banking APIs?
Axxiome Digital opens up the architecture for Fintechs to leverage the bank's products and services, some examples could be Fintechs offering investment products and services, bundled banking products or even Crypto currencies.
What deployment choices are available?
Axxiome Digital offers multiple deployment options, including on-premise, self-hostsed and cloud deployments. Read more about the Digital Platform and Deployment Options.