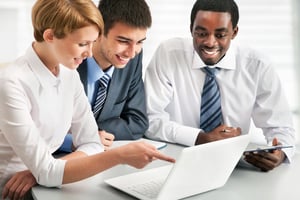 DIGITAL PLATFORM IMPLEMENTATION AND SUPPORT
Seamless Digital Banking Transformation tailored to your Business Priorities
UNLOCK DIGITAL EXCELLENCE: IMPLEMENT NOW!
Our end-to-end "Implementation and Support" service is designed to catapult your digital transformation journey. We understand that adopting a new digital platform can be a complex, resource-intensive task. That's where we step in, offering you a complete suite of services that go beyond mere implementation.
Our skilled team will not only integrate our cutting-edge digital banking platform seamlessly into your existing infrastructure but also ensure that it aligns perfectly with your unique business objectives. Post-implementation, our dedicated support team is available around the clock to resolve any issues, optimize performance, and assist in regular updates.
From initial planning to ongoing support, we offer a comprehensive service that minimizes risk and maximizes efficiency.
Approach
Below you can find our standard approach for delivering a seamless digital transformation utilizing on our Digital Platform. Our flexible framework and our modular solutions allow for a phased, incremental implementation roadmap, catering to your specific needs and timelines for optimal results.
STRATEGIC DIRECTION

We kickstart the process with a consultation to understand your strategy, specific requirements, timelines, constraints, and goals for digital banking transformation.

ARCHITECTURE ASSESSMENT

Our experts evaluate your current infrastructure, application, and data architecture to design an implementation strategy that is tailored to your landscape and minimizes disruption.

PROJECT ROADMAP

We craft a detailed project timeline, including milestones, roles, and responsibilities, to guide the implementation process and set expectations.

SOLUTION DESIGN

Analysis of your current business processes, customer needs, and identification of any gaps of our Digital Solutions standard capabilities. This crucial step ensures that the digital platform is aligned with your strategic business objectives and business processes.

AGILE IMPLEMENTATION

Utilizing agile sprint cycles, the digital banking platform is tailored to align with your organizational needs, customer demands, and compliance regulations. Further, we ensure seamless integration to your application landscape. The solution is continuously quality assured by our automatic unit- and integration testing, and validated by the project team.

USER ACCEPTANCE TESTING

Before considered ready for Go-Live, rigorous user acceptance tests are performed by the banks business teams to validate the solutions functionality, addressing any issues that arise for immediate resolution.

USER TRAININGS

We offer intensive training sessions to equip your team with the skills needed to effectively manage and utilize the new platform.

SOFT LAUNCH

A controlled rollout to a limited audience allows us to fine-tune the system based on real-world usage and feedback.

HYPERCARE SUPPORT

Continuous monitoring and analytics are employed post-launch to ensure optimal system performance, security, and user engagement.

FULL-SCALE ROLLOUT

Once the soft launch phase is successfully completed, we proceed with full-scale deployment across your organization.

ONGOING SUPPORT

Our dedicated support team is available 24/7 to handle queries, troubleshoot issues, and assist with future upgrades and maintenance.
Tools and Assets
Explore our key tools and assets that power our "Implementation and Support" service. These key resources ensure a smooth, efficient, and secure digital transformation journey for your bank.
A comprehensive roadmap outlining key milestones, releases, timelines and resource allocation, serving as the guide for the entire implementation process.
Jira Advanced Roadmaps to manage sprints, tasks, and workflows, ensuring transparent, timely and flexible project execution.
USER EXPERIENCE TEMPLATES
Out-of-the-box UI/UX templates that expedite the customization of user-friendly interfaces to your bank's needs.
BUSINESS PROCESS TEMPLATES
Out-of-the-box business processes that serve as a starting point for customizing operations to align with your bank's needs.
OPEN BANKING API TEMPLATES
A set of pre-built APIs that enable rapid integration of open banking and embedded finance use cases and ecosystem partners.
A repository of connectors that aid in seamlessly integrating the new digital platform with legacy systems, core banking and third-party applications.
Comprehensive manuals and guides covering functionalities and best practices, designed to equip your team with the skills to operate the platform.
A centralized online hub for logging issues and accessing support, ensuring effective and timely resolution of any challenges.
Benefits
Proofen Methodology:

Our time-tested approach combines industry best practices with innovative solutions, delivering a reliable and effective path to digital transformation.

Streamlined Execution: Our Project Blueprint ensures a well-defined and aligned roadmap, accelerating deployment while minimizing risks and disruptions.
Agile Adaptability: Agile Project Tools enable swift changes and iterations, making it easier to adapt to evolving business needs or challenges.
Kick-Start User Engagement:

Our User Experience Templates enable quick development of customer-centric interfaces, rapidly boosting user satisfaction and interaction.
Kick-Start Process Automation:

Our Business Process Templates enable rapid automation of key banking functions, driving immediate operational efficiencies and cost savings.

Seamless Integration: Our Integration Library ensures your new platform effortlessly meshes with existing systems, reducing operational hiccups.
Empowered Staff: Comprehensive Documentation equips your team with the essential knowledge for effective system management and troubleshooting.
Responsive Support: Our Service Desk Portal offers 24/7 assistance, ensuring rapid issue resolution and uninterrupted service.
FREQUENTLY ASKED QUESTIONS
What is the timeline for complete implementation?
The typical timeline ranges from 6 to 18 months, depending on the scope and complexity of your digital transformation needs.
What's included in the costs, and are there any hidden fees?
Our transparent pricing covers all aspects of implementation and license/subscription and support, with no hidden fees. Additional customizations will be clearly outlined.
How future-proof is the implemented digital platform?
Our capabilities ensures that your platform is future-ready, equipped for multi-core banking, open banking and embedded finance, and scalable to meet evolving business needs.
How do you ensure the new platform integrates with our existing systems?
Our Integration Library and Open Banking APIs ensure seamless integration with legacy systems, third-party solutions and partner ecosystem.
What kind of training can our staff expect?
Comprehensive Documentation and hands-on training sessions are provided to ensure your team is fully equipped to utilize the new platform.
Can you support us with infrastructure and platform operations?
Sure, we offer different deployment models and flexible support models to ensure we tailor the solution to your needs.