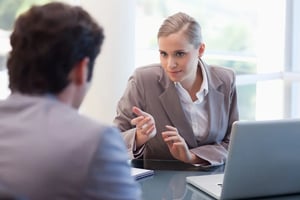 DIGITAL CUSTOMER ONBOARDING
Streamlined Digital Onboarding for Today's Tech-Savvy Banking Customers
UNLOCK THE FUTURE: ONBOARDING REDEFINED
Embrace the next era of banking with our groundbreaking Digital Customer Onboarding platform. Eliminate the drudgery of paperwork and extended wait times.
We've designed this platform to grant banks the ability to offer an uninterrupted, safe onboarding journey for clients, all from the sanctuary of their personal spaces. Dive into simplicity, speed, and security as we redefine what it means to join a bank in this digital age.
Key Features
Complete the customer onboarding process in a mere 5 minutes. Bolstered by genuine omnichannel capabilities, customer service representatives are empowered to efficiently navigate customers through their onboarding journey. Additionally, the platform seamlessly integrates with our robust Account Origination solution, creating a unified and streamlined experience.
ATTRACT DIGITAL-FIRST USERS
SEAMLESS MOBILE ONBOARDING
Allow customers to securely onboard, open accounts and access banking services without ever stepping foot inside a branch.
Digital identity verification

Flexible Retail and Commercial customer input forms

Rule-based documents submission

Rule-based bank auto-approvals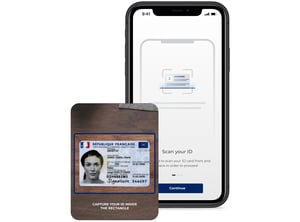 ATTRACT WEBSITE VISITORS
EMBEDDED IN YOUR WEB PRESENCE
Our web-based onboarding platform enables customers to seamlessly onboard right from your website, initiate account openings, and tap into banking services without the need for branch visits. The whole onboarding process is handled digitally. This ensures a frictionless and user-friendly customer experience, while meeting rigorous security standards.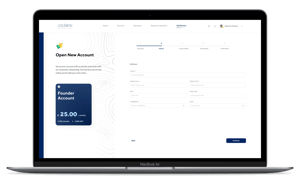 ATTRACT BRANCH VISITORS
IN-BRANCH ONBOARDING
Our in-branch onboarding process is designed for those who value face-to-face interactions without sacrificing digital efficiency. Guided by your teller agents, customers can initiate onboarding and account openings, all facilitated digitally. From document presentation to capturing digital signatures, the entire process combines traditional banking with modern digital tools, providing an optimal, secure, and efficient experience right within the branch.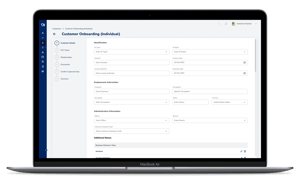 OMNICHANNEL SERVICING
ONBOARDING ASSISTANCE
Seamlessly blend online and offline interactions by integrating our platform with your service center. Our solution ensures a consistent customer journey, whether they're starting the process online or seeking personalized assistance over the phone or face-to-face. It's the perfect blend of convenience and human touch, enhancing customer satisfaction and loyalty.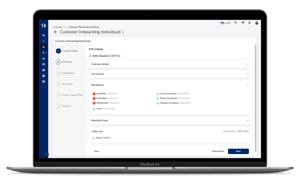 OTHER CAPABILITIES
Facilitate compliance management and reduce risk by embedding your policies and controls into the onboarding process.
We leverage remote authentication solutions that validate the customer's identity, e.g. based on real-time biometrics.
Flexibility to capture Customer, Regulatory and Financial Data based on regional requirements.
Robust validations include address, blacklist checks, and duplicate detection, ensuring data accuracy and compliance.
Rule-based application approval workflow, supporting automatic approvals as well as four-eyes-principle decision making.
Seamlessly integrate with your existing document management system, ensuring secure and easily accessible files.
Real-time customer updates, ensuring transparency and enhancing user engagement for a seamless onboarding experience.
All data is processed in real time, with the immediate creation of the customer record in the CRM / core banking system.
Benefits
Enhanced Market Reach:

Expands customer accessibility beyond geographic constraints, attracting a broader audience.

Convenience: Allows customers to register or initiate services anytime, anywhere, without physical constraints.
Speed: Reduces the time taken to onboard, compared to traditional methods.
Reduced Costs: Diminishes overheads associated with paper, manual labor, and physical space.
Accuracy: Minimizes human error, ensuring precise data collection and processing.
Eco-friendly: Reduces the need for paper, thereby being more sustainable.
Real-time Verification: Instantly verifies documents and customer details, enhancing trust.
Adaptability: Can be updated quickly to comply with changing regulations or customer needs.
FREQUENTLY ASKED QUESTIONS
HOW DIGITAL PLATFORM WILL ADAPT TO BANK'S PROCESSES AND SERVICES?
We collaborate closely with the bank's Business and IT departments to tailor our platform to their specific requirements. Our vast content library expedites implementation projects for a smooth and efficient process.
Does Axxiome Digital work with our third-party solutions?
Axxiome Digital comes pre-integrated with industry-leading third-party providers, offering authentication, electronic signatures, and more. Banks have the flexibility to select their preferred vendors, our solution ensures effortless integration with any third-party platform, ensuring a seamless experience.
Can the bank continue to use their existing mobile banking app?
While Axxiome Digital offers Online and Mobile banking solutions, every aspect of the application, including Customer Onboarding, is accessible via APIs. This empowers banks to seamlessly integrate their existing customer channels into the comprehensive omnichannel experience facilitated by Axxiome Digital.
How do you ensure data security and compliance during onboarding?
Axxiome Digital is built with robust security measures and follows industry-standard protocols to safeguard sensitive customer data. Our platform supports encryption, secure data transmission, and compliance with relevant regulations such as KYC (Know Your Customer), KYB (Know Your Business) and AML (Anti-Money Laundering). This ensures that the Customer Onboarding process remains secure and compliant throughout.
Can Axxiome Digital integrate with our existing banking systems and solutions?
Absolutely. Axxiome Digital is built to integrate seamlessly with a wide range of banking systems and software applications. Whether you're looking to connect with core banking systems, CRM tools, or other third-party solutions, our platform offers robust integration capabilities to ensure a cohesive and efficient ecosystem for your banking operations.
What deployment choices are available?
Axxiome Digital offers multiple deployment options, including on-premise, self-hostsed and cloud deployments. Read more about the Digital Platform and Deployment Options.