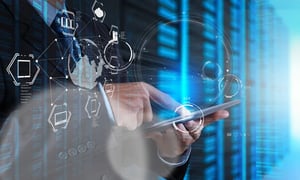 DATA
WAREHOUSE
Build your Foundation for Actionable Insights
Solving for Complexity
A data warehouse enhances banking operations by providing a centralized hub for organizing and analyzing diverse financial data from multiple and diverse sources of information. This centralized hub can enable informed decision-making, risk management, customer insights, and regulatory compliance.
A streamlined approach to establishing a data warehouse can improve operational efficiency, facilitates trend identification, and empowers your bank to adapt to market changes while ensuring data security and accuracy.
Approach
A streamlined approach to creating a data warehouse helps by simplifying the data integration process, optimizing resource utilization, and reducing implementation time and complexity. Axxiome's approach ensures faster data availability for analysis, quicker decision-making, and improved agility in responding to changing business needs and market trends.
REQUIREMENTS & PLANNING

We begin by understanding the specific data needs of the bank, including the types of data sources, desired analytics, and reporting requirements. Axxiome helps you develop a clear project plan outlining the scope, timeline, and resources needed for the data warehouse implementation.

We work with you to identify the various data sources within the bank, which could include transaction systems, customer databases, operational records, and external data feeds.

DATA SOURCE INTEGRATION

Axxiome helps determine how each source will contribute to the data warehouse and establish priority and data extraction processes. We help Implement efficient data extraction, transformation, and loading (ETL & Pipeline) processes to clean, harmonize, and integrate data from different sources into the data warehouse. This ensures data consistency and accuracy while minimizing redundancy.

WAREHOUSE MODEL

Design a logical data model that structures the data for optimal querying and analysis. Develop a data schema that aligns with the bank's reporting and analysis needs, and consider performance optimization techniques to enhance query speed.

GOVERNANCE & SECURITY

Implement data governance policies to ensure data quality, security, and compliance. Establish access controls, encryption, and data masking to safeguard sensitive information, maintaining regulatory and privacy standards.

TESTING & OPTIMIZATION

Establish operations to continuously test and validate the data warehouse to identify any discrepancies or performance bottlenecks. Refine data transformations, query optimizations, and indexing strategies to enhance overall system efficiency.

DEPLOYMENT & SCALABILITY

Axxiome provides training to relevant teams on how to utilize the data warehouse for analysis and reporting. We also d

esign the data warehouse architecture with scalability in mind to accommodate growing data volumes and evolving business needs.
Tools and Assets
Axxiome empowers financial organizations to establish a robust, secure, and efficient data warehouse that enhances decision-making, supports operational efficiency, and enables compliance with industry regulations.
We are a leading provider of technical services to the financial services industry. Axxiome has been providing core banking, digital banking and data management solutions across the globe for more than 15 years.
Axxiome has established long term partnerships with leading providers and experience developing data warehouse solutions using SAP, Snowflake, Amazon, Google Cloud and Azure.
Axxiome has cultivated resources and a methodology for achieving appropriately phased and budget-conscious data warehouse implementations.
Axxiome's skilled team is experienced in successful implementations and will help establish your data warehouse and partner with your team to ensure seamless management as you scale your organization.
Benefits
Efficient Data Management
Informed Decision-Making
Risk Management and Compliance
Regulatory Reporting
Customer Insights and Trend Identification
Operational Efficiency
Performance Analysis
Fraud Detection
FREQUENTLY ASKED QUESTIONS
Why do financial service organizations need data warehousing?
They

require data warehousing to efficiently consolidate data from multiple sources, comply with regulations, detect fraud, and gain insights for informed strategic decisions.
What are common challenges in data warehousing?
Challenges include data integration from diverse sources, ensuring data accuracy, managing security, adapting to regulatory changes, and optimizing performance.
How does data warehousing enhance customer experiences?
By consolidating customer data, your organization can provide tailored services, predictive insights, and personalized offers to improve customer satisfaction.
How does data warehousing assist in risk management?
Data warehouses help banks analyze transaction patterns, detect anomalies, and assess risks for proactive fraud prevention and risk mitigation.
How is data warehousing evolving in banking?
Data warehousing is evolving with real-time analytics, AI integration, cloud adoption, and focus on data-driven insights to enhance competitiveness and customer
engagement.
How does a data warehouse assist with regulatory reporting?
It simplifies the process of generating compliant reports, tracks required information, and facilitates quick retrieval of historical data, streamlining regulatory compliance efforts.