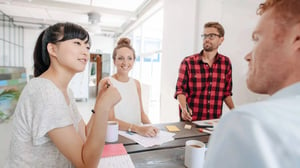 DIGITAL BRANCH AND TELLER
With Axxiome Digital, the Digital Transformation Finally Meets the Branch
DESIGNED TO ENABLE ANY BRANCH STRATEGY
Bank branch strategies can vary significantly from one institution to another, depending on factors such as the bank's size, target market, geographic locations, technology infrastructure, and customer preferences. There is no "silver bullet" approach that universally applies to all banks.
The Axxiome Digital solution empowers banks to execute their chosen strategies effectively and remain competitive in a dynamic financial market by providing versatility and quick time-to-market.
Key Features
The Axxiome Digital Teller software offers a wide range of features that can be tailored to suit the specific requirements of a bank. Our Teller solution equips branches with comprehensive digital functionalities, eliminating cumbersome paperwork, and delivering a seamless experience for both customers and employees.
THE BRANCH AT YOUR FINGERTIPS
BRANCH OPERATIONS
Axxiome Digital Teller digitizes all processes, optimizing in-branch experiences whilst facilitating operations, such as:
Start of Day Processes
End of Day Reconciliation
Customer and Account Inquiries
Cash and Cheque Operations
Fund Transfers and Bill Payments
Foreign Currencies
Saving Books
and much more...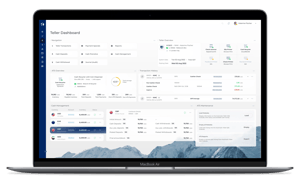 Powerful User Interface
MULTI TRANSACTIONS
Our software is designed for optimal efficiency. Seamlessly process and manage multiple transactions in one go. The intuitive interface ensures ease-of-use, bolstering productivity and elevating customer service standards.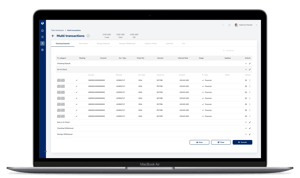 COMPREHENSIVE INSIGHTS
CUSTOMER 360 VIEW
Axxiome Digital provides a unified customer view for both retail and commercial customers by seamlessly integrating all backend systems: CRM, Core Banking Systems, Card Management, Payment Hub, and third-party solutions. For teller agents, the days of toggling between multiple applications are over.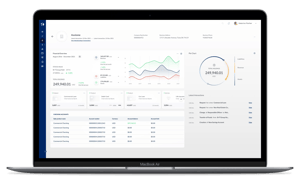 OTHER CAPABILITIES
Controlled cash movement with flexible workflow management between workstations, the vault and transport providers.
Automatic cheque capture and recognition including CAR/LAR Mismatch Detection, Signature Presence, and more.
Complex, hierarchical approval workflows. Ability to approve requests remotely, including on Mobile devices.
Empowers teller agents with on-the-go capabilities and real-time customer service in and outside branches.
Colleagues can chat directly from the application, for example, aiding remote approvals.
The platform operates via mouse or keyboard, allowing user-customizable shortcuts.
Supports operations in several different currencies, including Crypto.
All transactions and operations are recorded in the Journal, supported by a comprehensive set of readily available reports.
Benefits
User Satisfaction: Improved bank employee and customer experience with reduced customer wait times.
Omni-Channel: Seamless experiences, e.g. integrating mobile banking with branches.
Boost Profits: Enables up-selling with personalized product recommendations.
Reduce Cost: Enhanced efficiency and productivity with streamlined processes.
Go Green: Reduce need for any paperwork.
Empower Innovation: Enable flexible branch strategies, re-designs and core migrations.
FREQUENTLY ASKED QUESTIONS
What branch innovations are banks adopting?
Banks are adopting various branch innovations, such as pop-up branches for flexibility, Video Teller devices to extend service hours, and customer-operated teller devices.
Why Axxiome Digital Teller?
Axxiome Digital Teller cuts IT infrastructure costs with cloud deployment, delivers a paperless digital branch experience, integrates with mobile and online banking, and offers complete automation and workflow management.
Is it possible to retain the bank's existing devices?
Axxiome Digital seamlessly integrates with various devices, such as Pin Pads, Cash Dispensers, Scanners, Printers, etc., becoming part of the unified user experience within Teller workflows. We offer a wide range of pre-integrated devices and can easily integrate any other device the bank has or acquires in the future.
Can branch and teller processes be adapted to the bank's needs?
We collaborate closely with the bank's Business and IT departments to tailor our standard branch and teller processes to their specific requirements. Our vast content library expedites implementation projects for a smooth and efficient process.
What additional branch services can Axxiome provide?
Axxiome Digital also supports Safe Deposit Box management, Account Origination for various products (including Deposits and Lending products), Customer Onboarding and several other servicing functions.
What deployment choices are available?
Axxiome Digital offers multiple deployment options, including on-premise, self-hostsed and cloud deployments. Read more about the Digital Platform and Deployment Options.