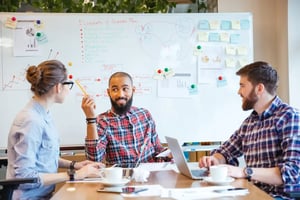 DIGITAL BANK TRANSFORMATION
From Ideation to Implementation: End-To-End Digital Services for a Sustainable Financial Services Business
DRIVE GROWTH WITH DIGITAL FIRST
A Digital-First approach is key driver that accelerates growth and achieves profit targets, and thus optimizes the return on investment in the business. For banks, the goal must be to achieve a Cost-Income-Ratio well below the 50% mark. Our experience with banks shows that digital initiatives contribute significantly to both cost optimization and an increase in turnover.
No two digital transformations are the same and there is no one place to begin the journey. Our digital experts will advise you on what makes sense for your institution, products, and services. Our experts carefully analyze your institution's digital ambitions, suggesting strategies that deliver real value and tangible benefits.
20
%
Customer Satisfaction Increase
15
%
Cross Selling Increase
Approach
While the future belongs to digital, the path to it remains a challenge. Our project experience shows that focused digital transformation planning enables banks to use their resources more efficiently and achieve up to 21% higher profitability.
Our focus is on making digital initiatives manageable and its value contribution measurable through streamlined overviews and clearly defined priorities over complexity. Plug and play solutions that can be implemented quickly instead of project monsters that typically delay ROI.
ASSESS STATUS QUO

Strengths, Weaknesses, Challenges and Potential: We compare your digital strategy, business model & KPIs, IT, processes, data, channels, and customer experience with our benchmark database of approx. two hundred small, medium, and large banks. Discover what sets the top 25% apart and understand their distinguishing actions.

Digital-First Drivers: Pinpoint your digital-first catalysts by considering technology, market requirements, business & IT strategy, priorities, and operational challenges.

Digital Capabilities: Analyze your current vs. desired digital capabilities. Which technological strengths are essential for your future success?

IDEATION & DESIGN

Solution Brainstorm: Together, we facilitate impulse lectures, creative workshops and showcases to develop creative ideas to close digital capability gaps.

Business Process Design: Refine core business processes using design-thinking, persona insights, and a customer journey-centric approach.

Digital Blueprint: Jointly, we integrate relevant technologies and solutions into a cohesive architecture, which includes processes, applications, data, and systems. Our "Digital Bank-on-a-Page" serves as a guiding reference.

VALIDATE & PLAN

Strategy Validation: Compare your digital strategy and objectives against our Digital Blueprint, pinpointing potential capability gaps.

Action Plan: Define, organize, and prioritize actions to bridge any identified deficiencies.

Digital Roadmap: Collaboratively, we craft a unique digital strategy, tailored to your business needs. The true test is often in focus, swift execution, and precise prioritization. We optimize, expedite, and sharpen your strategy, roadmap, and financial allocations.

EXECUTE & MONITOR

End-to-End Implementation: Axxiome's experts guide you throughout your digital journey. We blend management insights with tech know-how for comprehensive results, and aid in business planning, prototype deployment, and full-scope solution implementation.

Digital Booster: Despite resource constraints, drive momentum using powerful digital boosters. Our adaptable modules can be flexibly applied at various stages and offer timely wins, fortifying trust among business peers and stakeholders.

Measure Business Value: We aid in establishing a KPI framework to measure the financial return from your digital ventures.

Gauge Sustainability: We help quantify the impacts of your digital sustainability efforts.

Performance Oversight: Monitor key metrics, pinpoint improvement opportunities, and continuously fine-tune your digital operations to maximize efficiency and ensure sustained value.
Tools and Assets
Our Tools and Assets play a critical role in mastering the intricate realm of your digital transformation journey. They enable organizations to initiate and plan their transformation, ensure an efficient implementation and communication, and measure overall success.
Utilize our assessment and benchmark tools to determine digital maturity, spot deviations from set aspirations and competitors, and guide optimal tech adoption for transformation targets. Explore the Readiness Assessment in more details.
Concise summary that outlines all the digital capabilities of a bank, spanning across the organization, processes, and technology.
Digital Booster projects aim for speed and efficiency. They achieve long-lasting results quickly and with limited resources. These projects usually follow a flexible approach with short decision-making processes.
Monitor the effectiveness and sustainability of digital transformations and tech integrations, analyzing their impact on business, performance, and sustainability. Benchmark metrics in growth, sales, efficiency, and cost savings.
Benefits
ROI Improvement: Achieve up to 30% efficiency gains and up to 15% revenue increase.
Cost Savings: Automate around 40% of a bank's manual activities.
Enhanced Customer Satisfaction: Manage nearly 75% of all banking customer interactions digitally.
Optimized Customer Experiences: Reduce attrition by 8% by providing a seamless digital customer experience.
Efficiency: Allocate resource strategically driven by prioritizing digital initiatives.
Enhanced Project Efficiency: Realize up to a 45% reduction in projects lacking substantial value.
Elevated Project Success Rates: Achieve 70% increase in the success rate of digital projects.
Measuring the Impact of Digital initiatives: Enable precise performance measurement by a robust KPI system.
FREQUENTLY ASKED QUESTIONS
HOW TO MESAURE THE DIGITAL MATURITY OF MY COMPANY?
To understand the strengths and weaknesses, it is important to pay attention to the following aspects: business model and innovation management, customer experience, processes, applications, data, technology, as well as collaboration and delivery models. An assessment of the maturity level can be conducted through professional benchmarking. Axxiome offers different needs-based assessment models (see Digital Readiness Assessment).
How can I prioritize my digital agenda effectively?
Axxiome provides a practical, yet impactful criteria set and weighting model, prioritizing projects by business relevance, implementation effort, and customer impact.
Digital bank on one page - is this at all possible?
The strategy is divided into prioritized capabilities and actions, which serve as a basis for annual planning. The development plan summarizes the target architecture of the bank and provides a visual representation of it, including the status of each component, all in one page.
Little budget and few resources - do I have to postpone the digital transformation?
Waiting is no option. Even with limited resources, it is essential to act. We can do this by using smaller, powerful digital tools, or what Axxiome refers to as 'digital boosters'.
Digital applications - which investment is right for us?
Axxiome evaluates the use of digital technologies from both a technology and an economic perspective. We identify the use cases that make sense and evaluate them in a structured manner according to criteria such as cost-benefit analysis, data availability, ethical and regulatory aspects, realizable marginal utility, among others.
HOW TO GET STARTED?
To start a digital transformation, Financial Institutions should begin by conducting a comprehensive assessment of its current state, defining clear objectives and goals, developing a strategic roadmap, securing executive sponsorship, assembling a committed team, and gradually implementing digital initiatives while fostering a culture of innovation.