Transform your bank for future success
Enhance Customer and Employee Experience, Streamline Operations, and Drive Growth in an evolving Financial Landscape
EMBRACE THE FUTURE OF BANKING
Start your journey today
Get your transformation started with our comprehensive suite of banking services and solutions. Step into the future as you digitize your business, modernize your core systems, and harness the power of your data.
DIGITIZE YOUR BUSINESS
Harness the power of digital innovation to revolutionize employee and customer engagement, streamline operations, and unleash untapped revenue opportunities, revolutionizing your banking models for unparalleled growth.
MODERNIZE YOUR CORE
Upgrade your banking infrastructure to reduce risk and increase value, while improving operational efficiency and transaction speed. All of this can be achieved without the need for risky big-bang replacements, while also enabling the implementation of multi-core strategies.
UNLEASH YOUR DATA
Implement robust data governance, leverage data virtualization for seamless integration, and harness powerful analytics. Transform raw data into actionable insights, driving strategic decisions and catalyzing growth in the competitive banking landscape.
BANKING & TECHNOLOGY OBSESSED
Benefit from our expertise
Leverage our deep-rooted expertise in the financial sector. Our seasoned team merges digital innovation, core banking proficiency, and data acumen, excelling in managing large-scale transformative projects.
Digital Transformation
Tailored strategies driving innovation, user satisfaction, efficiency, and growth in banking institutions.
Digital Experience
Revolutionizing employee and customer interaction with intuitive, personalized, and seamless banking experience.
Digital Efficiency
Streamlining banking using advanced process automation and centralized product management solutions.
Digital Growth
Fueling growth through marketing strategies, sales conversion, and leveraging ecosystem opportunities.
Core Modernization
Revamping core banking architecture providing implementation, localization, and quality-assured management.
Data and Analytics
Enabling data-driven decisions through robust data governance, virtualization, warehousing, and analytics.
ON THE SPOTLIGHT
DIGITAL TELLER
Transform your banking experience with our Digital Teller – a sophisticated platform delivering personalized service, seamless transactions, and unrivaled efficiency, revolutionizing your customer interactions and increasing employee satisfaction.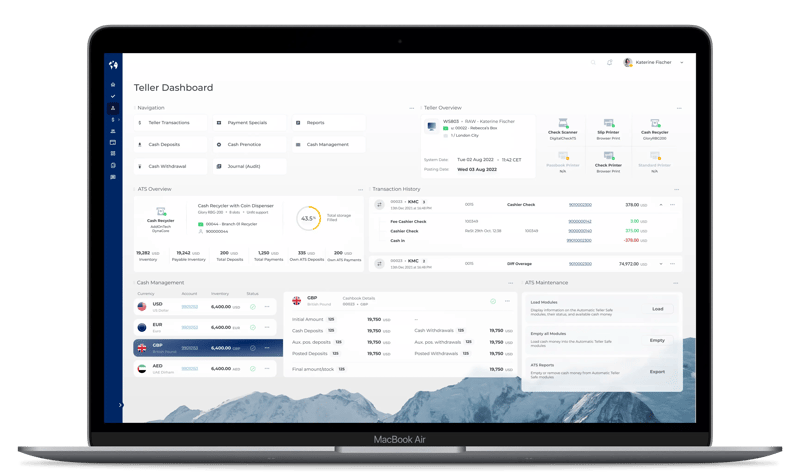 NEWS, PRESS AND EVENTS
Stay updated
Keep pace with the latest in banking innovation - explore news articles, press releases, upcoming events, and more. Stay informed, stay ahead.