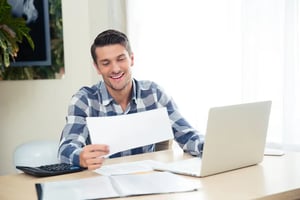 DIGITAL ACCOUNT ORIGINATION
Optimize the account opening process: digital, intuitive, customer-friendly and time-saving
INNOVATE YOUR BANKING EXPERIENCE
Venture into the cutting-edge universe of banking with our advanced Digital Account Origination system. It's time to leave behind outdated practices and usher in a new age characterized by smooth, efficient real-time banking product sales.
Our platform transforms the traditional paradigms of account opening and reshapes the entire landscape of loan origination. We ensure a fast, reliable, and fortified process that respects demand for digital proficiency. By adopting our solution, your bank isn't just adapting to the digital age; it's pioneering it.
Key Features
Join us in reshaping the banking landscape and stay ahead of the curve with our Digital Account Origination solution. Transform the way your bank operates, attracts customers, and delivers exceptional financial services in the digital age.
ELIMINATE WAIT TIMES
REAL TIME OPENING
Elevate customer satisfaction with real-time account creation, instant card issuance and fast loan origination. The sales products can be centrally configured in our Product Catalog solution, and pricing and eligibility are defined using our Dynamic Pricing capabilities. This efficient process not only delights customers but also streamlines operations, setting your bank apart in today's fast-paced world.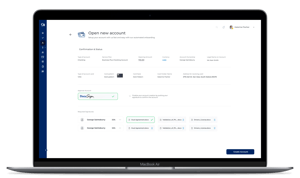 INCREASE YOUR LIQUIDITY
DEPOSIT PRODUCTS
Deliver ability for bank customers to rapidly establish deposit products such as Current Accounts, Savings and Term Deposits with a simplified rapid process where account opening and funding takes mere minutes truly unlocking the potential of digital banking. Our advanced product catalogue solution, will allow the bank to provide individual or bundled deposit products with attractive interest rates that allow the customer and the bank to derive immediate value.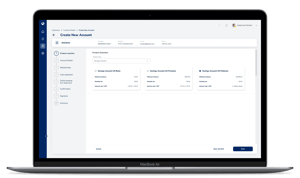 GROW YOUR REVENUE
LENDING PRODUCTS
Accelerate lending processes with our streamlined loan origination feature. From application submission to approval, our platform automates and simplifies the end-to-end loan origination journey. Enhance customer experiences by offering quicker approvals, reducing manual intervention, and providing transparent insights, positioning your bank as a trusted partner for financial aspirations.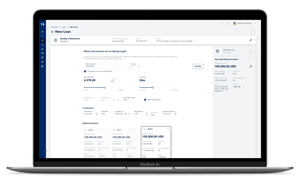 OTHER CAPABILITIES
Automated, tailored offers based on customer characteristics, like credit scores.
Instantly perform Credit Score assessments, generating real-time results aligned with the bank's rules.
Automatically craft tailored legal agreements, ensuring legal consistancy and compliance.
Paperless, streamlined signing for authorized individuals digitally or in-branch via integrated pads.
Seamlessly integrate with your existing document management system, ensuring secure and easily accessible files.
Broad funding choices such as transfers, wires, cash and cheques.
Deliver exceptional customer service through our Omnichannel servicing capabilities.
Benefits
Customer Experience:

Consistent across channels, allowing seamless process initiation and completion.

Accessibility: Allows customers to initiate accounts anytime, anywhere.
Growth: Accelerate customer acquisition with swift account origination, reducing time-to-market
Efficiency: Streamlines the origination process, reducing time and resources.
Cost-Effective: Minimizes overheads tied to manual, paper-based processes.
Real-time Processing: Ensures instant verification and faster account approvals.
Accuracy: Reduces errors through automated data capture and validation.
Compliance Ease: Built-in tools ensure adherence to ever-evolving regulatory standards.
FREQUENTLY ASKED QUESTIONS
How long does an Origination process take?
New accounts (including Loans) can be fully originated in a few minutes.
HOW DIGITAL PLATFORM WILL ADAPT BANK'S PROCESSES AND SERVICES?
We collaborate closely with the bank's Business and IT departments to tailor our platform to their specific requirements. Our vast content library expedites implementation projects for a smooth and efficient process.
Does Axxiome Digital work with our third-party solutions?
Axxiome Digital comes pre-integrated with industry-leading third-party providers, offering authentication, electronic signatures, and more. Banks have the flexibility to select their preferred vendors, our solution ensures effortless integration with any third-party platform, ensuring a seamless experience.
Can the bank continue to use their existing mobile banking app?
While Axxiome Digital offers Online and Mobile banking solutions, every aspect of the application, including Customer Onboarding, is accessible via APIs. This empowers banks to seamlessly integrate their unique customer channels into the comprehensive omnichannel experience facilitated by Axxiome Digital.
Can Axxiome Digital integrate with our existing core banking and solutions?
Absolutely. Axxiome Digital is built to integrate seamlessly with a wide range of banking systems and software applications. Whether you're looking to connect with core banking systems, CRM tools, or other third-party solutions, our platform offers robust integration capabilities to ensure a cohesive and efficient ecosystem for your banking operations.
What deployment choices are available?
Axxiome Digital offers multiple deployment options, including on-premise, self-hostsed and cloud deployments. Read more about the Digital Platform and Deployment Options.