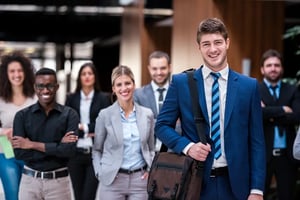 SAP CONSULTING FOR BANKS
Strategic Consulting, Efficient Deployment, and Secure Operation of SAP System Landscapes, whether On-Premise or in the Cloud
MANAGING FUTURE SAP AND CLOUD STRATEGY
What could be the strategy for an S4/HANA platform? On-premises or in the cloud? What benefits does RISE offer, and how can we leverage it?
These are common strategic questions many SAP clients consider:
Business & IT -Alignment: Establishing a foundation for consistent strategic decision-making.
Priorities: Defining the primary systems to ensure a healthy CIR (Continuous Improvement Rate).
Short, Medium, Long-Term Plans: Charting a thoughtful course including the choice between cloud and on-premises solutions.
Roadmap: Planning a 3–5-year technology trajectorynand beyond.
We provide you with a strategic and impartial perspective which considers:
Strategic Fit: Identify the most suitable approach for your bank.
Target Architecture: Define your strategic architectural objectives.
Flexible Options: Evaluate strategic and sourcing alternatives.
Roadmap: Define your priorities, approach, timeline and budget.
Approach
We offer comprehensive guidance encompassing IT architecture, integration, and process, data, and resource optimization. Our expertise spans the entire spectrum, from designing and planning to constructing and managing the SAP application landscape.
STRATEGY

We ensure your corporate strategy aligns seamlessly with SAP processes, providing real-time access to essential data for effective corporate management. Whether you're planning a new implementation, migration, or a comprehensive system landscape transformation, we guide you on the path forward and support your digital transformation journey.

CONSULTING

Our SAP consultants possess extensive experience and in-depth expertise in banking strategy, business process optimization and industry best practices. We provide support for your S/4HANA planning and implementation needs, whether you opt for an on-premises or cloud-based system.

IMPLEMENTATION

Throughout the implementation phase, we employ best-practice methodologies while offering the flexibility to tailor processes to meet the unique needs of your organization. Our seasoned SAP consultants remain at the forefront of contemporary software development, ensuring a forward-looking approach. Our ISO-certified project methodology underpins and enhances the implementation process.

MANAGED SERVICE

As your service partner, our commitment goes beyond successful implementation. We provide ongoing support by keeping you informed about developments and updates in cloud technology. Our team ensures seamless integration of new software updates and closely monitors your system's overall health. We offer expert guidance on how these changes may impact your system, with unwavering dedication to continuous quality assurance.
Tools and Assets
Tools and assets are essential during core banking architecture design as they enable efficient development and deployment of solutions, helping to streamline processes and accelerate the implementation to achieve low Total Cost of Ownership. We provide a framework for reusability, reducing development time and costs.
Our business and IT consultants have a deep understanding of the SAP and SAP Fioneer applications, the BTP and strategic programmes such as RISE. We are therefore well-equipped to advise on the best-fit SAP strategy to support the unique needs of your organization.
SOFTWARE DEVELOPMENT SERVICES
Our consultants bring deep industry and functional expertise and are proficient in the latest technologies such as Java, ABAP, PHP, and others. Our unique expertise allows us to design and implement modern, future-proof solutions in a cost effective manner, leveraging global nearshore and offshore centers.
Expert services from Centre of Competence for SAP technologies provide valuable insight into large scale landscape integration, system and component architecture, quality assurance and software design principles.
Our offering includes standardized development processes, automation tools, templates, and best practices to accelerate and streamline software development while maintaining consistency and quality.
Mobile Application Development
Axxiome's services include: development for Android/iOS/Windows phone, development of mobile web, standalone and hybrid mobile applications based on Fiori, security and device management for corporate solutions.
In addition to software development, Axxiome offers services in the following areas: Software product architecture, design, custom development, SAP Extensible Products, Enterprise Application Development and Database and Data Migration.
Benefits
Strategic Planning: Effective roadmap development can lead to faster time-to-market by 25%, resulting in an earlier ROI.

Digital Transformation: Expert guidance can accelerate innovation, resulting in products reaching the market around 30% faster.
Outsourcing of application management can lead to cost reductions of up to 30%.

Expertise and Skills: Leveraging our expertise can result in improved application performance and availability, reducing downtime by around 20%.
FREQUENTLY ASKED QUESTIONS
In a cloud or on-premise what is the best decision?
The decision depends on your business goals, budget, IT expertise, data sensitivity, scalability needs, and regulatory requirements. Many businesses are adopting hybrid approaches, leveraging both cloud and on-premise solutions to balance benefits. It's recommended to engage with IT and consulting experts to analyze your specific needs and make an informed decision.
Private, public or multi-cloud?
Based on your system priorisation and clarity (business & IT) our customers are able to decide about the right environment.
HOW DOES REAL-TIME PROCESSING BENEFIT?
Real-time processing allows for instant updates to account balances and transaction statuses, providing customers with up-to-date information.
WHAT ROLE DOES ANALYTICS PLAY?
Analytics enable data-driven insights, helping banks make informed decisions, identify trends, and offer personalized services to customers.