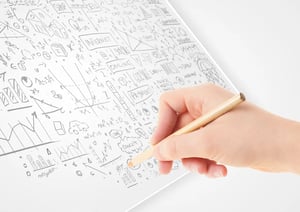 PROCESS DIGITALIZATION FOR BANKS
Increasing Operational Efficiency through Intelligent Process Optimization
RESPOND TO MARGIN AND COST PRESSURE
Cost and margin pressures are high and pervasive in almost all financial institutions. To meet ambitious cost-income ratio targets, sustainable improvements in operational efficiency are essential. Intelligent automation of business-critical processes (including the embedding of AI) plays a critical role.
Processes automation and the associated diversion of resources to higher value tasks, shorter processing times, reduction of paper and errors, can enable productivity and efficiency gains of up to 80%.
The scalability and rapid implementation of the solution enables an ROI in just a few months.
20
%
Staff Productivity Gains
50
%
Compliance Violations Reduction
Approach
Our banking experts start with a detailed exploration of initially selected business processes and their underlying IT architecture, delving deep into inefficiencies and challenges. We prioritize and address identified gaps by delineating target processes, tools, and architectures. Subsequently, we present a comprehensive roadmap for seamless implementation.
PROCESS SELECTION

Collaboratively decide on the processes for assessment by following these steps:

Process Map: Understand the banks overall process landscape
Strategic Insights: Review the bank's strategic objectives and identify related business processes
Stakeholder Insights: Conduct interviews with key stakeholders to unveil further processes needing attention
Focused Selection: Present the curated list of processes and collaborate to prioritize those requiring detailed exploration

AS-IS ASSESSMENT

Thorough process analysis to pinpoint inefficiencies and optimization opportunities:

Documentation Review: Scrutinize existing process documentation for a comprehensive understanding
IT Architecture Review: Explore how processes align with current IT systems and the underlying technology
Stakeholder Insights: Collect feedback from employees, customers, and partners. Direct interactions frequently highlight operational challenges and areas for improvement
Advanced Process Examination: Benchmark and research key processes using our banking process experts in combination with specialized analysis tools

PROCESS OPTIMIZATION

Collaboratively refine processes and tools to overcome existing limitations.

Target Process Design: Meticulously craft and visualize workflows, ensuring alignment with overarching business goals while enhancing user experience

Process Automation, RPA, Chatbot, AI: Seamlessly embed intelligent business process management solutions, RPA and AI-driven chatbots, to optimize operations and enhance customer engagement

Architecture Enhancements: Ensure the applications, data and technology architecture supports the envisioned processes

IMPLEMENTATION

Jointly develop a structured plan detailing phases, milestones, and timelines for business process optimizations;

Strategic Options: Assess and compare various implementation scenarios to select the most suitable approach for desired outcomes.

Roadmap Alignment: Collaborate with stakeholders to prioritize and align on implementation milestones and objectives.

Execution: Implement defined business process improvements, tools and architecture enhancements

Monitoring: Measure process efficiency and gather user-feedback to validate success.
Tools and Assets
Axxiome deploys advanced tools for efficient business process capture, analysis, and optimization, minimizing manual input, fostering data-driven decisions, and bolstering digitalization outcomes.
BPMN 2.0, a widely adopted standard for business process modelling, graphically represents business processes in a workflow. It enhances understanding, communication, and process management across teams.
Camunda's business process engine efficiently models and automates workflows. Utilizing the know-how from our Digital Banking Platform, we can expedite implementation, offering rapid, optimized process transformations.
Robotic Process Automation
RPA tools automate repetitive, rule-based tasks by mimicking human actions. It reduces manual efforts, eliminates errors, and accelerates process execution.
Leverage AI tools for business process automation, optimizing workflows using machine learning and predictive analytics, ensuring efficiency and accuracy in operations.
Benefits
Efficiency: Enable the bank to handle more transactions and inquiries in less time with efficiency gains of up to 80%.
Accuracy:, Higher accuracy in financial transactions and customer interactions with as much as 80% reduction in error rates.
Faster Customer Service: Reduce response times by 50% through automated processes leading to quicker issue resolution and improved customer satisfaction.
Cost Savings: Cut operational costs by up to 40% due to digitalization initiatives reduced manual labor and paper usage.
Increased Throughput: Increase transaction volume by 20-30% through automated workflows without the need for proportional staffing increases.
24/7 Availability: Digital processes enable round-the-clock access to services.
Streamlined Onboarding: Reduce customer onboarding time by up to 60% through digital onboarding, leading to quicker customer acquisition.
Environmental Impact: Going paperless through digitization can save up to 75,000 trees annually, contributing to a more sustainable future.
FREQUENTLY ASKED QUESTIONS
Process automation: What does it mean?
Processes that operate autonomously, without constant human intervention, are considered automated. Automation involves breaking down processes into steps that can be independently completed by suitable technologies, resulting in either partial or full process automation.
When implemented within a company, this approach is referred to as Business Process Automation (BPA).
Process automation vs. process digitization: what are the differences?
When automating processes, the task can be accomplished with machines and robots, making the processes either manually operated or semi-digital. Process digitalization, on the other hand, involves entirely mapping out processes in a digital format, rendering them intangible. However, these processes do not necessarily have to operate independently, i.e., through full automation.
By blending process automation and process digitalization, you achieve automated, digital processes – a symbiotic fusion known as Robotic Process Automation (RPA).
WHICH PROCESSES ARE SUITABLE FOR DIGITIZATION?
Process digitalization spans across various domains in an organization. Firstly, it involves the digitalization of existing, predominantly manual or analog processes. Secondly, the advancement of technologies like machine learning (ML) and artificial intelligence (AI) facilitates the development of entirely new, fully automated digital processes.
Process digitalization encompasses more than simply transposing established workflows into digital counterparts; it also entails the creation of entirely novel digital processes.
A fundamental revaluation is imperative. Without it, there's a risk of converting inefficient analog processes into equally ineffective digital ones. As aptly stated by Thorsten Dirks, former CEO of Telefónica Deutschland: 'If you digitize a subpar process, you end up with a subpar digital process.
What technologies can be used for process digitization?
There are a variety of technologies that can be used for process digitalization, including Robotic Process Automation (RPA), Business Process Management Systems (BPMS), Artificial Intelligence (AI), Machine Learning (ML) and Big Data analytics. The choice of technology depends on the specific needs of the business and the type of processes that are to be digitalized. It may also make sense to combine several technologies to create a comprehensive solution.