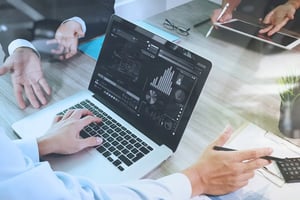 DYNAMIC PRODUCT PRICING FOR BANKS
Maximize Profits, Optimize Prices: Your Bank's Central Product & Pricing Solution
ELEVATE PROFITS, OUTPACE COMPETITORS
Central Pricing Management provides banks a holistic perspective, delivering clear insights into pricing models used across various financial products and applications. This unified method not only enhances oversight but also fosters a unified grasp of pricing tactics.
By consolidating this knowledge, banks are positioned for smarter decision-making. Such a streamlined approach paves the way for optimized efficiency, ensuring that pricing remains consistent, competitive, and in line with overarching financial strategies, benefiting both the bank and its customers.
Key Features
Our innovative solution provides the capabilities to seamlessly create, fine-tune, and effectively manage financial products, catering to both the Deposits and Lending domains. This encompasses a streamlined workflows and approval processes.
FLEXIBLE PRICING
PRICE LISTS
Supercharge your sales with customizable Price Lists, managing standard, individual, or campaign pricing based on Fees, Interest Rates, and FX Rates. Price list validity can be setup to be:
Time-based
Based on customer segment
Other specific eligibility criteria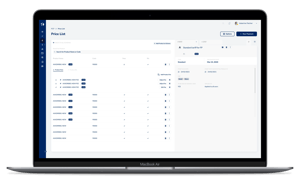 AUTOMATIC UPDATES
PRICING ENGINE
The Pricing Engine ensures smooth updates for customer settings and product fees, accommodating changes like expiring price lists, adjusting for customer attribute modifications, and fine-tuning at the product level. These updates adhere to predefined dormancy rules, ensuring precise and efficient pricing management.
Effortlessly handles price list expirations
Adapts to changes in customer attributes for eligibility
Precise adjustments for individual price lists or discounts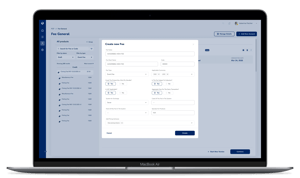 OTHER CAPABILITIES
Contains current settings of customers and their products including all active fees and their price lists.
Provides information to other external systems in case of changes on customer, product, fee or price level.
Each feature and parameter can be linked to its unique approval workflow.
Axxiome's Product Catalogue and Pricing can be integrated into any architecture and supplement any core banking application.
Benefits
Customized Offerings:

Adapt pricing by customer segments, behaviors, or usage for personalized offers.

Competitive Advantage:

Adjust prices swiftly based on market trends, competitors, and economic indicators.

Operational Efficiency: Streamline operations by centralizing processes, reducing manual interventions and errors.
Improved Profit Margins: Optimize prices to capture maximum value, improving overall revenue and margins.
Regulatory Compliance:

Ensure pricing models align with standards and allow easy adjustments for compliance.

Risk Management:

Price based on eligibility criteria, customer creditworthiness or risk indicators for effective mitigation.

Consistent Customer Experience: Deliver coherent and fair pricing across all channels, improving trust and loyalty.
Agility in Adaptation: Rapidly modify prices based on events, seasonal changes, or special promotions, enhancing flexibility.
FREQUENTLY ASKED QUESTIONS
WHAT TYPES OF FINANCIAL PRODUCTS ARE SUPPORTED?
Our solution offers capabilities for different deposits and lending products. We are flexible to adjust it to your needs.
How do we configure Product Catalogue and Pricing?
All configuration is done in state-of-the-art UIs with guided flows, approval workflows and great automation capabilities.
Do you support individual pricing?
The Product Catalog and Pricing solution enables different pricing models including customer segmentations and individual pricings.
Can the solution maintain customer - account relationships?
Yes, Customer and Account relationships are also available and registered in the application if needed. PCP provides a module that contains customers' current settings and their products including all active fees and their price lists.
Can products and features be consumed by other bank solutions?
All product information is available to be consumed by all components of the bank's architecture through Restful Services.
What deployment choices are available?
Axxiome Digital offers multiple deployment options, including on-premise, self-hostsed and cloud deployments. Read more about the Digital Platform and Deployment options.